Ahh! I am going a little bit overboard with excitement!
My pink Princess kissing balls made it to the top ten for the month of March at
Today's Top 20
!
So I need y'all to
get over there
and vote for me!
Voting is on the top left.
All of the projects are A-MA-
ZING
! I feel so honored to be among them!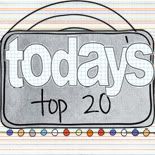 While you're over there, check her blog out!
She features projects from all over Blogland, for everybody, no matter what your whim is. Love it!
Thanks for the fun competition, Amanda!